In a recent post HF had exposed how the Chinese soldiers were posing as monks. The incident reminded me of the Storm troopers in the Star Wars movies who were supposed to be the army of saviors but then turn against the people. Following that the Chindu posted the headline that
Fearless Leader Hu Jintao
had commenced the Olympic torch relay, which really serves little purpose other than free advertisements for the Olympics in local media. The article is detailed here:
http://www.hindu.com/2008/04/01/stories/2008040155841300.htm
Check out
this clip from
the Star Wars saga, to get an intro into the Emperor. The Fearless leader shamelessly states,
"The Olympic flame symbolises the Olympic spirits — hopes and dreams, brightness and happiness, friendship and peace. With the spirits, it has come to the land of China,"
Could you please consider the same spirits of the Tibetians who were brutalised a few weeks back?
The whole thing appears like the
Emperor Palpatine launching the death star in the Star Wars movie.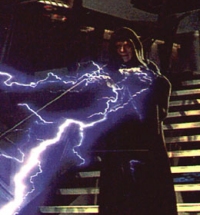 Who do you think will make the best Darth Vader and why? Is it,
1. Yen Ram
2. Prakash Carat CPM
3. Sitaram Leechury CPM
4. Anyone else
Let us know of your thoughts.